28.01.2021
"RHS Garden Bridgewater" winner at the Structural Timber Awards 2020
On the evening of January 27, 2021, the Structural Timber Awards ceremony was held for the first time as a virtual award ceremony. We are very delighted to announce that our project "RHS Garden Bridgewater" has won the category "Project of the Year" at the Structural Timber Awards 2020.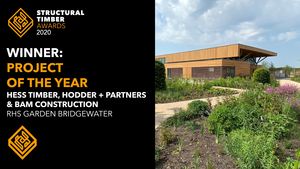 The roof structure of the 'Welcome Building' consists of three different timber construction components: "cigar-shaped" glued laminated timber columns, timber diagrid cassettes with diagonally arranged inner grillages and straight outer glued laminated timber rafters as well as cross laminated timber panels to tie the cassettes together.
The sanded "cigar-shaped" glued laminated timber columns rest on 16 reinforced concrete columns, each of which has a diameter of 450 mm. The glued laminated timber columns measure 3850 mm in length and 300 mm in width (in their centre) and are tapered to 200 mm at both ends to ensure an attractive, filigree and light overall appearance of the roof construction. The columns are structurally relevant and support the entire roof, which measures 2160 m² in total. The timber diagrid consists of individual cassettes dividing the whole roof into 6-metre grids. Each individual cassette measures 6 metres on the long and 3 metres on the short edge and consists of diagonally arranged inner grillages and straight outer rafters which provide stability and bracing to the whole roof structure. This straightforward grid structure results in roof dimensions of 24 metres (8 x 3) in width and 90 metres (15 x 6) in length. Natural light permeates the building either through Siberian Larch louvred curtain walling or filters through the diagrid roof via two roof lights, one running centrally 6 metres wide x 54 metres long and one 18 metres wide x 12 metres long creating a glasshouse environment.