HESS LIMITLESS
ENDLESS. STRONG. TRANSPORTABLE.
The patented high-strength beam joint named HESS LIMITLESS was developed to enable a cost-efficient use of long glued laminated timber in your project without complicated prior transport planning.
HESS LIMITLESS consists of 3 main components:
Universal finger joint
Scarf in the beam's edge area
Premium lamella

The beam joint is glued on site by our skilled specialists. All the tools necessary will be made available by us and we take care of the complete process, such as preliminary planning. We will quote an all-inclusive price for the finished HESS LIMITLESS beams.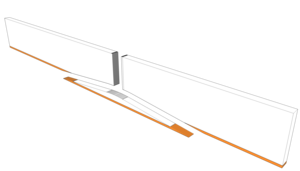 Approved product
Worldwide proven solution
Transport cost savings
Easy handling of the component segments
Highest technical efficiency
Wood-wood connection
Complex geometries can be realized
Economical complete solution
Approval Z-9.1-775 HESS LIMITLESS
Wide range of strength classes
Lower overall costs with demonstrably equal or even higher technical performance
Barely visible connection meets the highest architectural standards
The segmentation of the components guarantees flexible and cost-effective transport options
Increased fire safety
High cost-effectiveness compared to alternative building materials and construction methods